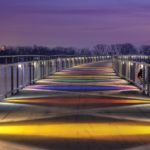 Have you ever cried, stomped, and kicked because you didn't want to forgive someone? If you have, I understand. For seven and a half years, I fought the battle of forgiveness.
I thought if I forgave the person who hurt me, I would lose the battle. Maybe you've experienced that same thought.
For years my friend, Margie, had encouraged me to cross the bridge of forgiveness and forgive my ex-husband. She said, "Yvonne, God wants you to forgive him. When you do, peace, freedom, and life to the fullest await you."
Of course, I doubted her and wouldn't budge. Finally, with fear and hesitation, I crossed the bridge of forgiveness. I didn't know what I would find on the other side.
To my surprise, I left the dull gloomy side of discouragement, defeat, and destruction behind me and crossed the bridge of many colors to the side of peace, freedom, and life to the fullest. Regardless of the weather outside, I had great weather in my heart and soul. My friend, Margie, was right.
You too can cross that same bridge of forgiveness. The next time you see a bridge, let it remind you that when you cross it, you'll find peace, freedom, and life to the fullest.
Psalm 119:32 says, "I run in the path of your commands, for you have set my heart free." Meditate on that verse to confirm what awaits you on the other side of the bridge.
To read more about forgiveness, you can get my new book, Moving from Broken to Beautiful through Forgiveness, on Amazon or Barnes & Noble.
Copyright © by Yvonne Ortega May 30, 2016.