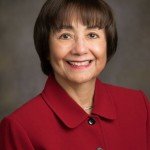 "When do you think your publishing house will be able to release my book?" I asked the publisher over the telephone. I knew the date I wanted, but I waited to hear what she would tell me.
"May 1," she answered.
I clapped and cheered. I thanked God for giving me the desires of my heart. I couldn't think of a better release date. I lost my mother before Mother's Day five years ago. Mother's Day, the anniversary of my son's passing, and his birthday all occur in May, but this year I will focus on helping other women who face grief or other trials.
God has taken the broken pieces of my life and given me beauty for ashes. He longs to do the same for you.
Whether you struggle with loneliness, a life threatening illness, or the emotional roller coaster of some other heartache, God loves you.
The heartache in your life can become the instrument the Lord uses to make you a stronger person and to give you a bigger ministry. God won't allow you to suffer simply for the sake of suffering. He has a purpose for your life on earth.
 Psalm 20:4: "May He give you what your heart desires and fulfill your whole purpose" (HCSB).
Dear God, please give me my heart desires. Amen.
Application: What will you do this week to find out what God's whole purpose is for your life?
Copyright © by Yvonne Ortega March 2, 2015