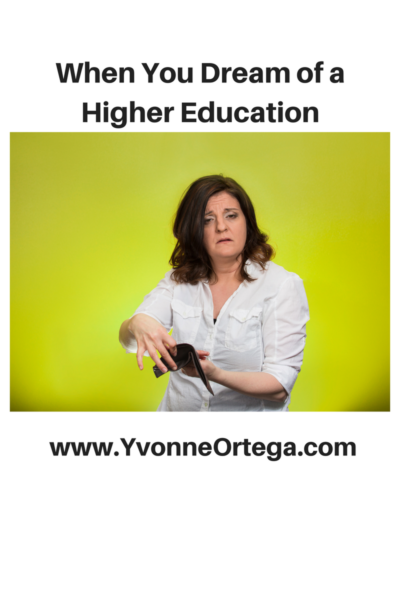 Dream of a higher education? Do you dream of being a college graduate? Maybe you've given up on that dream because you struggle with finances.
Maybe you gave up on your dream of a higher education because you think you're too old. Millions of middle-aged women attend college. The typical college student is no longer an eighteen or nineteen-year-old straight out of high school.
Write for Help
Don't dismiss your dream. For information about available funding and scholarship opportunities, visit https://studentaid.ed.gov
You can also look at the various colleges and universities in your area or state, find their websites online, and write the contact persons for information on scholarships and grants.
Call on the Phone for Help
Maybe you prefer to talk with someone rather than to write for help. Call the contact person of each place of higher learning in your area and ask for help.
Check with Your Pastor
Your pastor may know of a church member who gives scholarships in memory of a loved one. A couple in my church gives out several scholarships each year in memory of their late son.
Your pastor may know of local organizations that like to help middle-aged women, minority women, single parents, or widows pursue their dream of a higher education. Years ago, a friend of mine received a full scholarship to college because she was the only one who applied for it.
Contact Women's Organizations
Start with the YWCA. This organization works to eliminate racism and empower women. Their literacy and job training programs empower women with the knowledge and skills to advance their educational and economic status. Look at www.ywca.org to find a YWCA near you.
Look in the phone book or online for women's organizations in your area. You can also contact your local chamber of commerce and Department of Social Services.
I encourage you to follow your dream and obtain a higher education.
Psalm 32:8: "I [God] will instruct you and teach you in the way you should go; I will counsel you with my loving eye on you" (Psalm 32:8 NIV).
Dear God, I dream of a higher education. I claim your promise that you will instruct me and teach me in the way I should go and that you will counsel me with your loving eye on me. Amen.
Copyright © by Yvonne Ortega VI. VI. MMXVII.